Verona Red Radicchio-Heirloom, Non Gmo Seeds
Verona Red Radicchio can be used as a cut and come again crop, or be left to develop small cabbage like heads.  Like many radicchio varieties, Verona Red has a sharp bitter flavour that mellows after cooking. 
Radicchio holds up well to grilling, sautéing or being mixed with warm salad dressings.
Days to Maturity 90 Days
Packet Contains Appx 350 Seeds
Regular price
$3.50 CAD
Sale price
$2.50 CAD
Unit price
per
Sale
Sold out
Share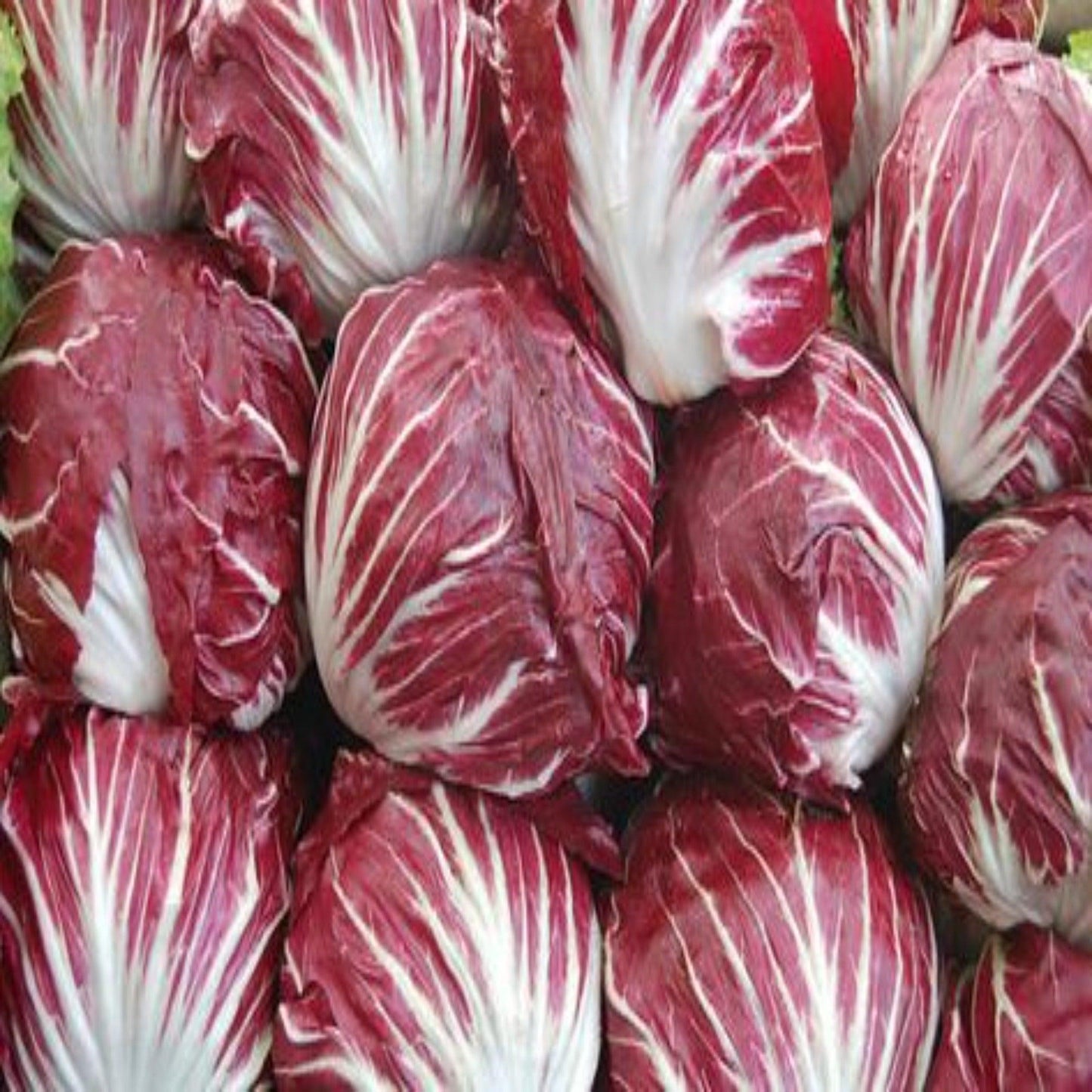 Growing Radicchio - Benefits and Instructions
Benefits of Growing Radicchio
Cost Saving - Radicchio can have a hefty price tag, often reaching 5$ or more per head in the grocery store. 
Medicinal - Radicchio has been used for centuries to treat everything from digestive issues to kidney and liver disorders.
Nutritional Profile -  High in Vitamin K, Iron and Zinc.
Use in: Fresh salads, grilled, soups and stews.
Growing Instructions for Radicchio
Culture:
Sun Exposure: Choose a full sun location. 
Soil:
soil pH of 5.5-6.8, and rich soil with plenty of compost or well-rotted manure added prior to planting.
Moisture: Prefers frequent shallow watering, a drip or trickle system works best.
Planting: 
Direct seed as soon as the ground can be worked, or once the soil has warmed to 15-18 degrees.
Plant every two weeks, starting as early as soil can be worked until late. 
Grow in the spring and fall for best crop.
Spacing:   Plant 2 radicchio per square foot of growing space using Square Foot Gardening Method.  Or plant in rows 12-18 inches apart.
Sow seeds
Sow thinly 1⁄4 inches deep, thin seedling to 8-10 inches apart.
Harvesting:
Cut as soon as the heads are firm. Radicchio that matures in cool or cold weather will hold in the garden for several weeks and even under the snow if protected by a thick layer of straw mulch or a plastic tunnel or cold frame
Storage/Preparation:
Place radicchio in the refrigerator in a perforated plastic bag in the vegetable crisper. Radicchio will store in the refrigerator for upto 3 to 4 weeks
Companions:
Lettuce; avoid planting with endive.