Santo Cilantro - Organic, Open Pollinated Seeds
Santo Cilantro is a slow bolting variety that offers a longer harvesting period.
Cilantro is a double duty herb and spice. It produces feathery leaves with a sharp, fresh citrus flavour and the seed pod known as 'coriander'  with its warm spicyness. 
The entire plant can be consumed, with stems and roots often being used in soups and curries, and delicate flowers being used raw in salads.  Cilantro, if left to flower, can be a beneficial pollinator plant in your garden as well.
Days to Maturity 50-55 Leaf 90-105 Seed
Packet Contains 200 Seeds
Regular price
$3.50 CAD
Sale price
$2.50 CAD
Unit price
per
Sale
Sold out
Share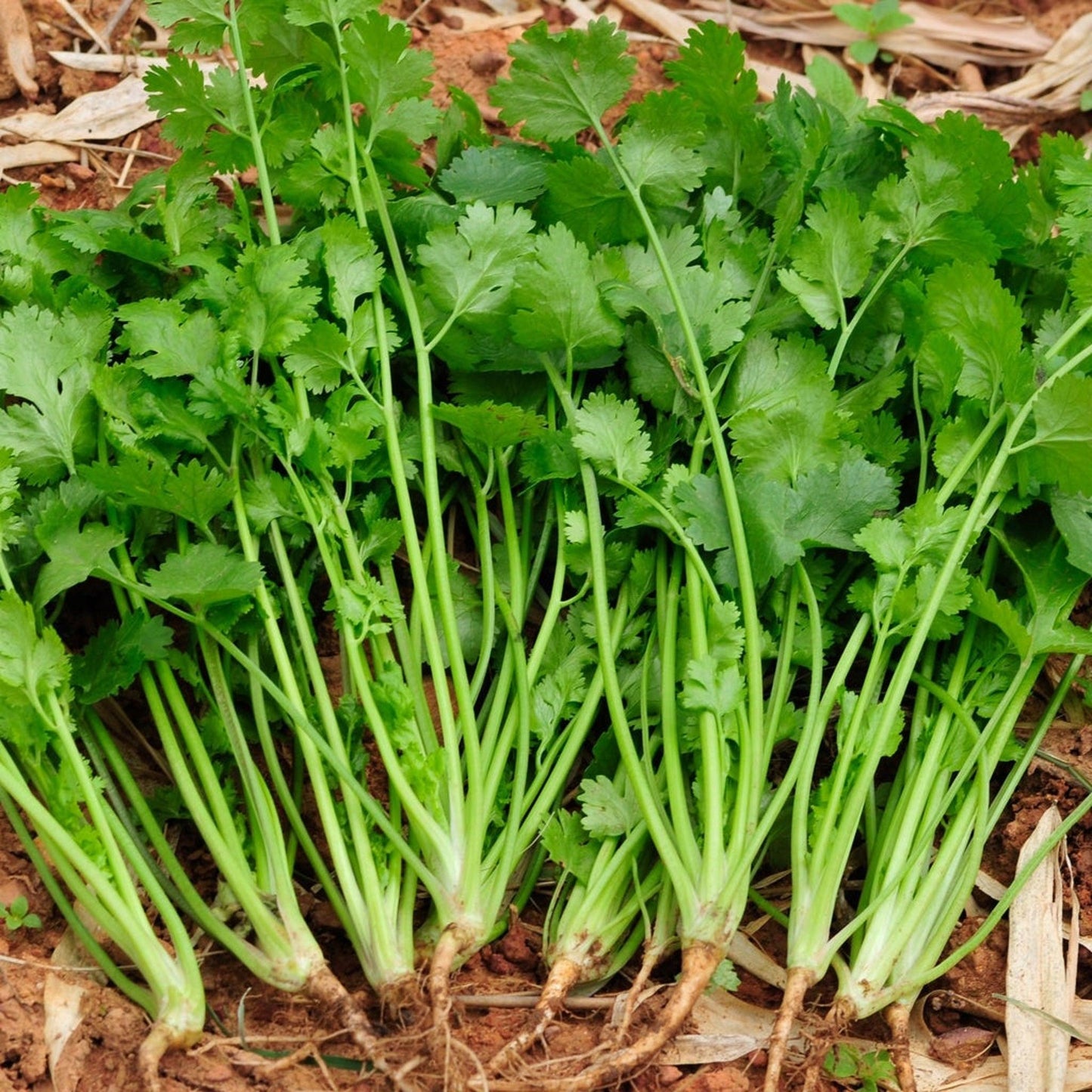 Growing CIlantro- Benefits and Instructions
Benefits of Growing Cilantro
Medicinal - Cilantro can rid the body of heavy metals, has strong antioxidant properties, lower blood sugar levels and prevents urinary tract infections.
Multipurpose - The stems, seeds (coriander), leaves and roots are all edible
Nutritional Profile - Loaded with nutrients including; Vitamin A, C, E and K as well as riboflavin, niacin and vitamin B6.
Use in: Salsas, curries, soups, stews and pickled vegetables.
Growing Instructions
Culture:
Sun Exposure: Full sun or light shade.
Soil: Prefers a deep, fertile soil which can be either light or heavy, as long as it is well draining.
Moisture: Water regularly, being careful not to overwater. Allow soil to go almost dry between watering, then soak thoroughly.
Planting: Plant early in the spring after the danger of frost. 
Spacing: Plant 1-9 cilantro plants per square foot of growing space using Square Foot Gardening Method.  Or plant 6 inches apart.
Sow seeds:
Sow seeds directly in the garden 1⁄2 inch deep
Harvesting:
Using scissors snip the whole stem as close to the soil as possible, working from the outside of the plant in (the outside stems are the oldest). It is important to harvest regularly to keep the plant from bolting.
Storage/Preparation:
To store fresh cilantro, place the stem ends in a jar of water and place a plastic bag around the leaves to keep humidity in. Unfortunately cilantro does not dry very well, it looses almost all its flavour. However it freezes well and retains its flavour. 
Companions:
Beans, peas, cosmos, yarrow, mint, dill, parsley.