Peach Melba Nasturtium -Open Pollinated Seeds
Creamy yellow blossoms with peach-red coloured dots around the center of the petals, named after the dessert that consists of peaches with raspberry sauce. 
 It is a beautiful trailing plant that does well in containers and hanging baskets. The cheery flowers are excellent pollinators attracting birds, butterflies and bees. All parts of the nasturtium are edible, providing a somewhat peppery bite.
Days to Maturity 45
Packet Contains 25 Seeds
Regular price
Sale price
$4.00 CAD
Unit price
per
Sale
Sold out
Share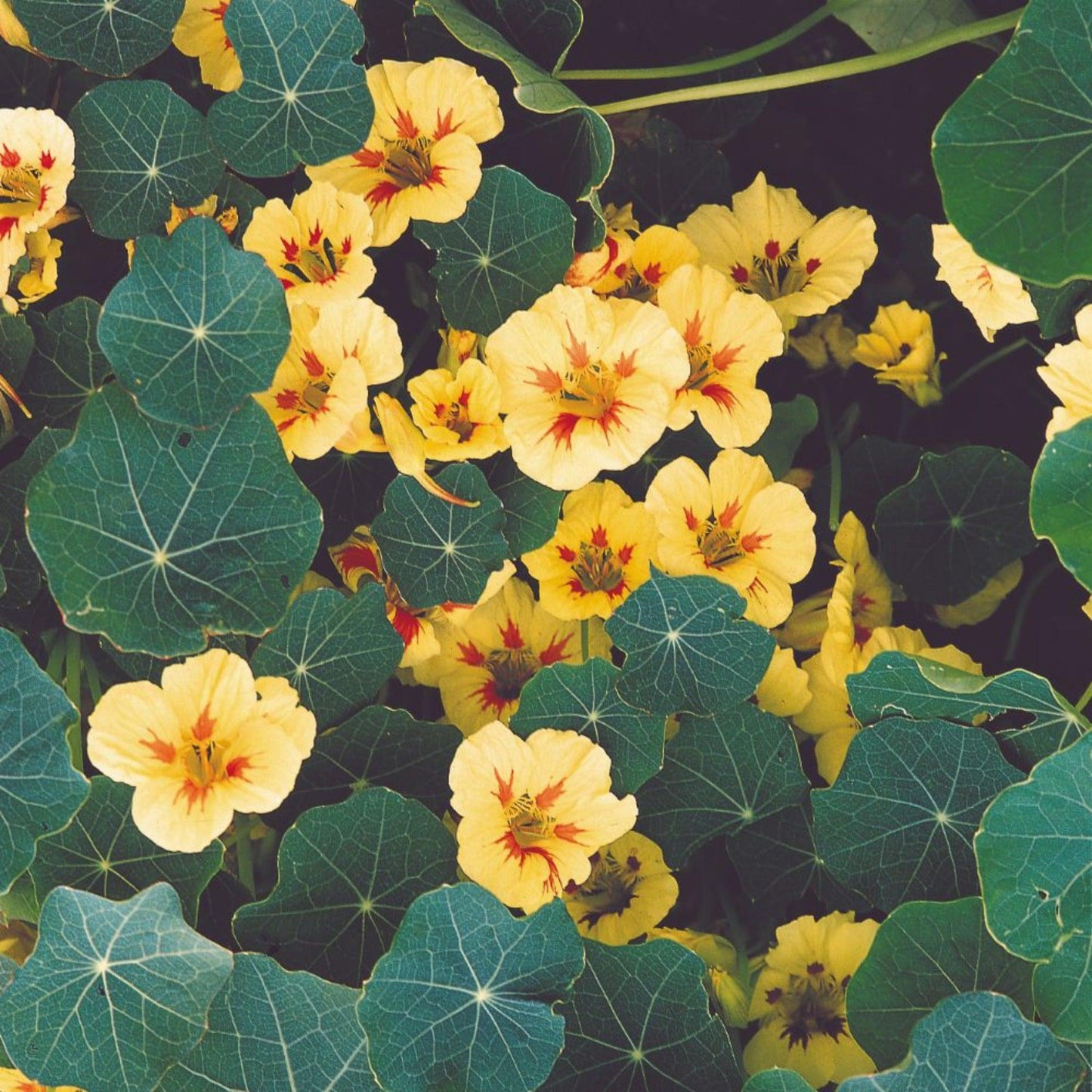 Growing Nasturtium - Benefits and Instructions
Benefits of Growing Nasturtiums
Medicinal

- 

As well as boosting the immune system and helping to prevent coughs, and cold nasturtium can act as a natural expectorant. A cup of tea made from nasturtium is an excellent way to get rid of mucus that causes coughing and breathing troubles. Drink a few cups a day with some honey and you should soon be breathing more easily.
Nutritional Profile - High vitamin C content.
Use in: Salads, fresh eating, decorate baked goods, tea, infuse cocktails.
Growing Instructions 
Culture:
Sun Exposure
: F
ull sun to partial shade.
Soil: Nasturtiums like sandy, dry, well-drained poor soil that is not too fertile.  They thrive in poor soil conditions. Do not fertilize.
Moisture: Keep soil moist while seeds are germinating. Water the grown plants once or twice a week, or when the top 1" of soil becomes dry.
Planting: 
May be started inside 2-3 weeks before transplanting, but is usually direct seeded a week after last frost or once the soil warms up to 18 degrees C. 
Nasturtiums are known to not respond well to transplanting.
Spacing:   Plant 2 nasturtium plants per square foot of growing space using Square Foot Gardening Method.  Or plant in rows 8-12 inches apart. 
Sow seeds: 
Plant seeds 1⁄2 inch deep
Harvesting:
Harvesting nasturtiums is as easy as picking flowers and leaves as you need them. Flowers can be eaten as buds or in full bloom. Nasturtium seeds can also be collected easily in late summer or early fall when the plants start to die down. Make sure seeds are completely dry before storing them.
Storage/Preparation:
Use flowers and leaves within 24 hours of picking for peak freshness.  May keep upto 3 days in a sealed container in the fridge.
Companions:
Brassicas, dill, pumpkins, spinach, zucchini, tomato, potato, beans, carrots.