Noche F1 Zucchini - Hybrid Seeds
Noche produces attractive, dark green, cylindrical zucchinis which are easy to harvest due to its open habit with short spines.
Disease resistances keep the plant healthy and bearing over a long period. Intermediate resistance to watermelon mosaic virus and zucchini yellow mosaic virus. 
This variety is soft and sweet when grilled or refreshing grated raw in a salad.
Days to Maturity 42 Days
Packet Contains Appx 25 to 30 Seeds
Regular price
Sale price
$10.00 CAD
Unit price
per
Sale
Sold out
Share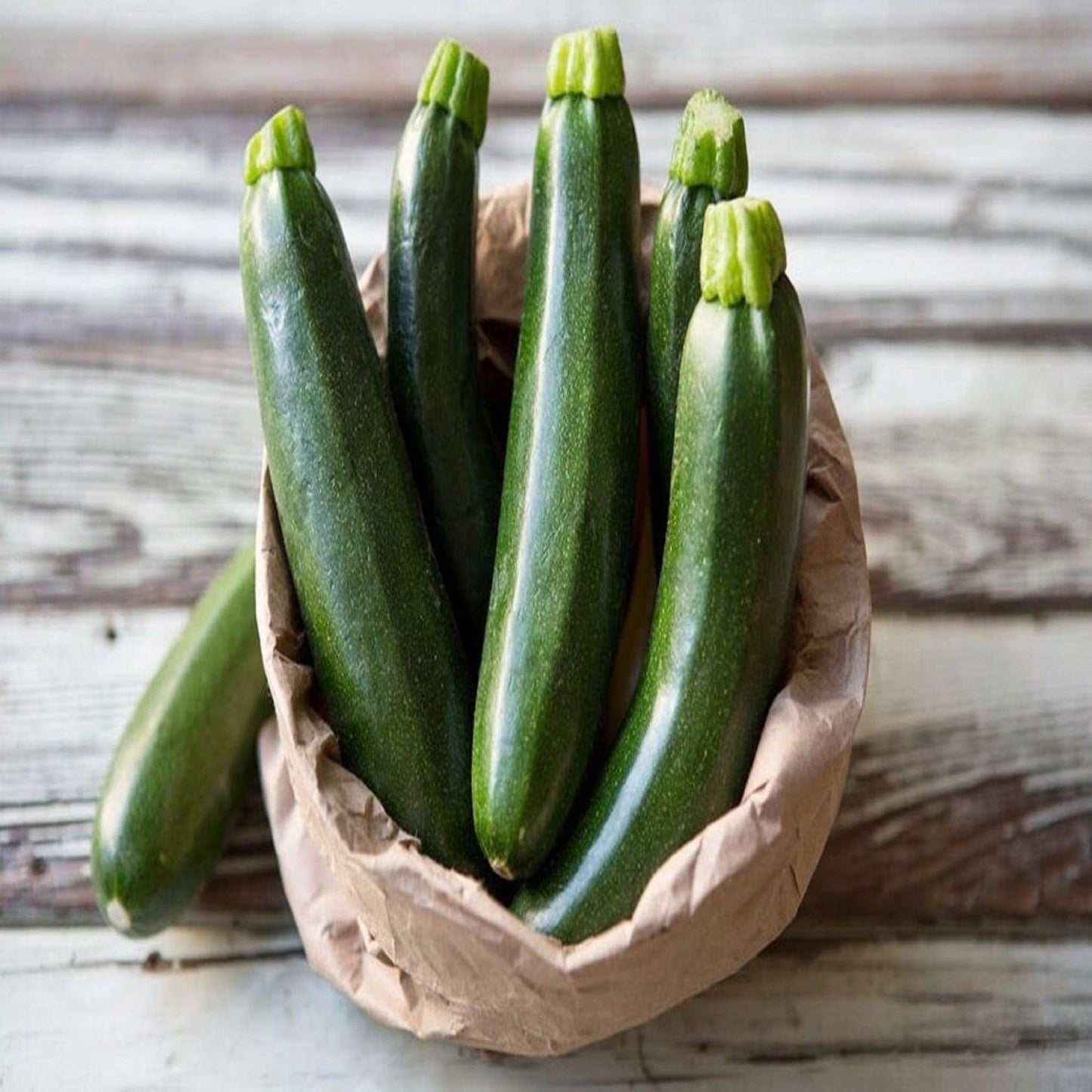 Growing Summer Squash - Benefits and Instructions
Benefits of Growing Summer Squash
Adaptable - Summer squash are fast growing and can easily be trained to grow vertically on trellises or tomato cages to save precious garden space.
Nutritional Profile - Magnesium, calcium, iron, Vitamin A and B6.
Use in: Soups, Stews, Curries, Baked goods.
Growing Instructions
Culture:
Sun Exposure: Choose a full sun location. 
Soil:  A soil pH of 5.5-6.5 is best. Squash are moderate feeders; prefer a rich loamy soil of good fertility and moisture retention. Mix plenty of organic matter into soil. Squash love lots of nitrogen!
Moisture: Even and sufficient soil moisture is essential.
Planting: Plant after all danger of frost has past or when the soil has warmed to 21-27 degrees C as seed will not germinate in cool soil. Can be started indoors 3-4 weeks ahead of last frost date. 
Spacing:   Plant 1 Squash per square foot of growing space using Square Foot Gardening Method.  Or plant in rows 48-72 inches apart.
Sow seeds
Sow summer squash 1 inch deep, 6 inches apart
Harvesting:
Harvest summer squash when they are 4-8 inches long and when their skin is still shiny. Harvest scalloped varieties when they are 3 to 6 inches in diameter. You can harvest zucchini and yellow summer squash as baby squash when the fruit is 4 to 6 inches long. Baby summer squash will be tender and tasty
Storage/Preparation:
Store summer squash by gently wiping the fruit clean with a damp cloth and then placing it in a perforated plastic bag in the vegetable crisper of the refrigerator.  Summer squash can also be frozen, canned or pickled.
Companions:
Corn, beans, tomatoes, cucumber, garlic, lettuce, nasturtiums.