Albino Beet - Heirloom, Non GMO Seeds
Never have purple hands again!  These heirloom seeds will provide white beets originally from Holland that has strikingly white flesh and less of the strong earthy taste that the purple variety do. 
These beets have one of the highest sugar contents of any vegetable, and are used to produce sugar.  The beet greens can steamed, sauteed or eaten raw.
Days to Maturity 50
Packet Contains Appx 120 Seeds
Regular price
Sale price
$3.50 CAD
Unit price
per
Sale
Sold out
Share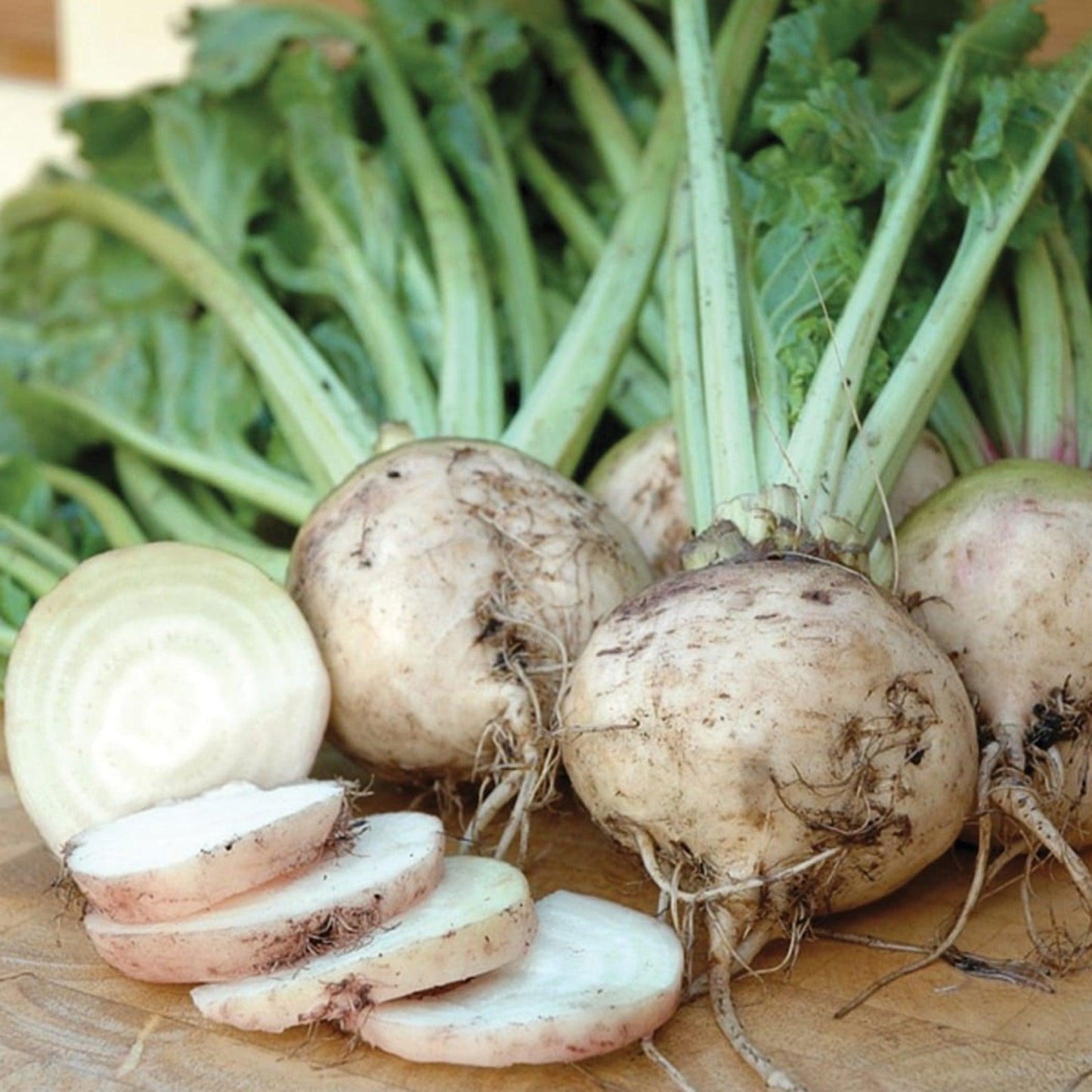 Growing Beets - Benefits and Instructions
Benefits of Growing Beets
Long Season Crop - Plant Spring for Summer Harvest and Summer for Fall Harvest.  Frost tolerant
Multipurpose - harvest leaves or roots
Nutritional Profile -  Very rich in minerals, contains antioxidants
Use in: bortsch, dips, juicing, roasts, etc
Growing Instructions
Culture:
Sun Exposure: Choose a full sun location. Beets will grow in part sun but tuber production reduced, would be more suitable for baby beet or beet green producton
Soil:  Beets require a light, well-drained, cool soil with pH between 6.5 and 6.8. Compost or well-rotted manure along with pure wood ashes, as a supply of additional potassium, should be mixed well into the soil prior to planting.
Moisture: Keep well-watered as drought will result in tough or woody roots.
Planting:  Plant every two weeks, starting as early as soil can be worked until late
Spacing:   Plant 9 beets per square foot of growing space using Square Foot Gardening Method.  
Sow seeds directly into the garden thinly 1⁄2-1 inch deep Soil temperature should be 18-24 degrees C for optimal germination but will germinate in cooler soil
Harvesting:
Young and tender beet leaves can be used as greens. Dig or pull roots when 2-3 inches in diameter or desired size.
Storage/Preparation:
Beets are best pickled for off grid storage or stored in moist sand in a cool room.
Companions:
Bush bean, cabbage family, corn, leek, lettuce, onion, radish.